About  Technology Catalysts International
(TCI)
Technology Catalysts International (TCI) was founded in 1979 to provide consulting services that satisfy the technology transfer and business research needs of industry. We specialize in technology licensing, technology assessment, and technology portfolio management. The TCI headquarters are located in Falls Church, Virginia; a suburb of Washington, DC. Our global network also includes offices and associates in Argentina, the Czech Republic, Germany, India, Japan and Korea.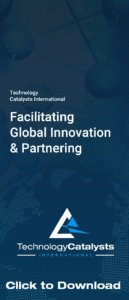 Our research staff is comprised of professionals with backgrounds in a variety of technical disciplines, with additional expertise in international marketing, licensing, finance, and business development. They are skilled in providing clients with strategically important competitive information worldwide. The breadth of our experience assures clients of high quality, actionable information, and complete coverage on topics of interest.
TCI's core consulting services are based on continuous monitoring of technological product development activities on a global basis. The company provides consulting services to leading product developers and manufacturers in North and South America, Europe, and Asia. Our client base consists of small, medium, and large corporations.