AAPS 2016 Annual Meeting and Exposition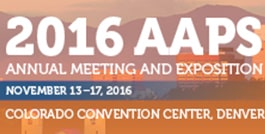 Date/Time: November 13, 2016 - November 17, 2016,
Meet TCI at our booth #1210 at AAPS and discover how we can help you with your technology and business information needs in drug delivery, pharmaceuticals, excipients, and OTC and personal care. We offer services in strategic consulting in drug delivery technologies, technology assessments, competitive landscape, deal structuring, due diligence, patent assessments, in- and out-licensing, and mergers and acquisitions. TCI is headquartered in the US and has offices in Germany, Czech Republic, China, Korea, Japan, India, and Latin America.
TCI provides highly focused client-based consulting on new trends in large molecule drug delivery, innovative and patient-friendly drug-device combinations, business intelligence, and new drug delivery technologies for challenging formulation needs. We would like to arrange a meeting to discuss your specific information needs.
Please contact Shala Doerr, Business Development at sdoerr@technology-catalysts.com