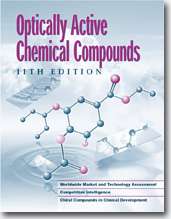 Optically Active Chemical Compounds – 11th Edition
Publication Date: February 2002
Chiral drugs continue to be a significant force in the global pharmaceutical market. Recent developments in the chiral-related industries indicate that a fundamental shift is occurring. Pharmaceutical companies are increasingly concentrating on their core strengths in drug discovery and marketing. Another trend is the increased consolidation in the pharmaceutical industry. These trends are resulting in the divestiture of the chemical operations and plants by big pharma. For fine chemical companies, this increases the requirement to develop a 'critical mass' and full range of capabilities for continued participation.
The emergence of a new model for success is spurring significant merger and acquisition activity in the fine chemicals and pharmaceutical intermediates arena. Programs of acquisition, divestment, and joint venture have transformed some companies from having portfolios of virtually unrelated business into cohesive groupings of activities. New entrants into fine chemicals are seeking to acquire expertise and plants to achieve critical mass in this high-margin business. Every chiral technology company that enters the market has a number of bidders raising asset prices in this sector.
As markets for single-isomer drugs continue to blossom, both fine chemical companies and academic chemists are prospecting for new enantioselective technologies to produce them.
Companies need to understand the technical and business strategies of competitors, suppliers and customers to take advantage of this fundamental shift. The report series,Optically Active Chemical Compounds (OACC), provides current assessments of the technical and business implications of chirility. Those who purchase this report series will be provided with in-depth analysis and evaluation of emerging chiral technologies, competitor activities and product developments.
The eleventh edition of OACC consists of three individual volumes:
Volume I: Worldwide Market and Technology Assessment
Volume II: Competitive Intelligence
Volume III: Chiral Compounds in Clinical Development